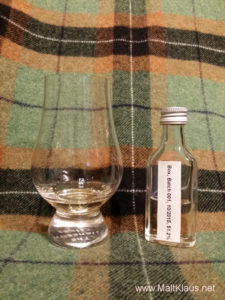 Dram data:
Distillery: Box
Bottler: official bottling
Distilled: Sept. 2011
Bottled: Oct. 2015
Age: 4 years
Limitation: 2109 bottles
Casks: 130 ltr 1st fill ex-bourbon
Alcohol: 51,2%
unchillfiltered/uncoloured
Whiskybase link
Tasting notes:
Colour: white wine
The nose doesn't try too hard to hide the relatively young age of the whisky, but it is a lovely nose for just four years! Vanilla pods maturing in a citrus orchard. Yep, that's it! But there's more… A mineral character paired with oxidising green apple, Physalis, nectarine, tinned tangerines and a pinch of spices. Light, fruity, summery. I'd say perfect for the season, but it's 16°C outside and raining… On to the palate! Equally light but not without substance. Quite a bit of alcohol up front and maybe still ever so slightly feinty? When the alcohol fades we've got fresh fruits straight out of cardboard storage boxes. Green apples, White apples ("Weiße Klar", the first apples to ripen in my neck o' the woods), a touch of vanilla, gooseberry and just about ripe nectarines and white peaches (with a touch of cracked peach stones). Again, very summery and not hiding its age. The short to medium long finish is true to nose and taste: Not too alcoholic upon swallowing, rather gentle for 51% ABV, actually, slightly malty-sweet with, once again, a mineral note, green and white apples and aforementioned summer fruits on the brink of ripeness.
Verdict:
This young whisky doesn't hide anything, literally. Want to know what went in it and how it was made? Just look up the website, in an applaudable level of openness it tells you, for example, about the recipe, the fermentation, and about the maturation in 130-litre ex-bourbon casks. I'm a bit surprised these small casks didn't have more influence during the four years of maturation, but then again the climate might make for even slower maturation than in Scotland…
Anyway, it's a fresh, light, young and fruity dram. It can't hide its age (which it doesn't have to) and it shows they're on a good path – at 120€ for half a litre you will have to see it as an investment in the future of the distillery.
Score: 79/100
(Nose: 82 Palate: 78 Finish: 78)
Thanks a lot to Peter Moser for the sample!