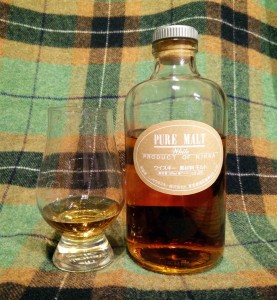 Dram data:
Distillery: – (blended Malt)
Bottler: Nikka
Distilled: –
Bottled: ca. 2013-2014
Bottle Code: 6/14C441254
Age: NAS
Limitation: –
Price at the time of purchasing: ca. 40€ (yes, I paid too much at a retail store…)
Casks: –
Alcohol: 43%
Most likely chill filtered and artificially coloured
Whiskybase link
Tasting notes:
Colour: honey. Most likely fake.
The nose greets me with a combination of smoke, sweetness and herbal spices. It's not often I encounter this kind of harmony, but then again this is a blended malt and as such it is designed to be that way. Peat smoked gummi bears on a bed of sea salt seasoned with green kitchen herbs. A bit of honey, a bit of vanilla and caramel, some burnt rubber, old wardrobe and violets. Omnipresent brine, but no Islay iodine or other phenolic notes. A wee bit spirity still, I doubt the age goes into the double digits. The palate is a bit uninspiring at first. Initially a dry Riesling shot with salt, the wardrobe reappears with dusty notes. Smoke? Well, yes, but not too much. Gummi bear and honey sweetness in the background with nuts, pepper and undistinguishable spices. Still a bit metallic and young with the alcohol almost dominating even at 43% ABV. Give it half an hour in the glass and a spoonful of water and it gets better.  The finish is well-rounded with a nice balance between sweetness and green notes, lingering pleasantly for a long time with the peat smoke reappearing at the very end.
Verdict:
The Nikka Pure Malt White is one release in a series of three (White, Red, Black) different blended malts. In this particular case, according to the official website, the major component is actually an (unnamed) Islay malt. I would've never guessed that, it seems the (also undisclosed) Japanese malt component completely changes the Islay profile. Yes, it is a nice little experiment. Yes, it is definitely something completely different and worth checking out for the price (just don't overpay as I did…). Yes, it is very drinkable and engaging. But it is also still a bit young and it could do better with a few additional years of maturation.
One last word: I really like the (500ml!) bottle. The cork is coated with what looks like some kind of plastic so there's no chance a bad cork will ruin the whisky. I really like that, Japanese ingenuity.
Score: 81/100
(Nose: 83 Palate: 78 Finish: 82)