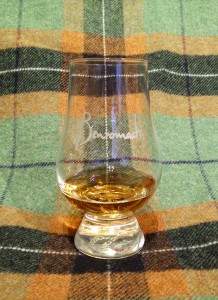 Dram data:
Distillery: Benromach
Bottler: Original Bottling
Distilled: 2000-ish
Bottled: 2015
Age: 15 years
Limitation: –
Casks: 9 years ex-bourbon, 6 years ex-sherry
Alcohol: 43%
Probably chill filtered; natural colour
Whiskybase link
Tasting notes:
Colour: deep red gold
The nose opens on a rich, sweet and creamy note with a faint layer of fragrant smoke in the background. Sweet sherry mixes with hints of vanilla, figs, dates, fresh sweet strawberries, sweet dark cherries, caramel, toffee, milk chocolate, cloves, allspice a noticeable (but well-integrated) plain oak wood note and faint cough lozenges.
The palate isn't quite as sweet with more dry and herbal notes in the mix, but still quite chewy and oily. Dry sherry, noticeable european oak spices and slight bitter notes, oily dark cocoa powder, artificial leather, cigar tobacco, mere hints of peat smoke, dry dark fruit puree stripped of most of its sweetness (perhaps replaced by artificial sweeteners). Nonetheless quite light and a bit nondescript, lacking depth to counter the already quite noticeable oak influence. The  long finish is not unlike the palate, lots of oak influence (tannins, bitterness, spices) upon swallowing with slight malt sweetness, remnants of peat and an evolving plain oak board note towards the end.
Verdict:
This latest release from the Gordon & MacPhail's owned Speyside distillery was just released when I visited it in early June 2015, which was when I bottled this sample for further examination back home. Digging deeper into the malt reveals a light, ever so faint smokey, distillate which is driven by the 6 years of finishing (or, rather, second maturation) in presumably European oak Sherry casks. I find the cask influence is already a bit too much as there's not as much in terms of depth, fruit or sweetness to counterbalance it as there could be. Still a very nice dram, as the score shows, but given the choice I prefer the 10yo or the 10yo 100 proof over this one, they're a tad sweeter, livelier with less loud oak.
Score: 83/100
(Nose: 86 Palate: 83 Finish: 82)