After enjoying a very sunny, hot, relaxing Springbank open day, the third and last day of the Campbeltown whisky festival was on: Glengyle open day. Boy, what a day it was going to be, filled with events and tasting after tasting! Let's just say this up front: There were those who had sample bottles (including yours truly) and there were those who didn't… ahem.
First breakfast
With a whole day's worth of dramming in front of the six of us, a fully cooked Scottish breakfast, enjoyed outside in the sunshine, was just what we all needed to get going. Okay, we never had anything else for breakfast, but, hey, any excuse, right?
Soon enough it was time to call a taxi (no walking this time!) for a ride into town – for the first event of the day:
Second breakfast – alternative tasting
The folks at Cadenhead's are well-known for bottling fine whisky, but they're also bottling Gin, Rum and Cognac, and that's what the (m)alternative tasting with chief booze flogger (inofficial title I just made up!) Mark Watt was all about. After tasting the standard Old Raj gin (which went very well with the tonic water on the table – kidding, it's a very good gin!), we were in for a treat: A cask-matured gin! They filled a firkin with very high ABV gin (someone ignored or forgot orders to dilute before casking…) which apparently led to a bizarre situation when Mark poured samples straight from the cask for a few visitors. Whilst Mark thought it had "a bit of a kick", allegedly some of the guys were gasping for air… Sadly we did not get to taste this 92,3% ABV version, but a "slightly" watered down one – which was still very impressive – and didn't agree with tonic water at all. A gin for sipping on its own!
Moving on, we got two samples of a 30yo and a 50yo Cognac from the Distillerie Charpentier in the Petit Champagne. Both were very excellent "Cognacs for whisky drinkers". Personally, I liked the 30yo a tad more – it just had a bit more going on, but both were really, really good and have since been released (and probably sold out now).
At the end of the tasting we finally tapped into the Rum supply, with the first one being the "Classic Rum" (which I thought was okay, but it didn't really connect with me), and the second one an 18yo Caroni. Such a gritty, dirty, oily, greasy (think tampered-with German diesel engines) dram – but in a really good way! Also probably sold out worldwide by now, sorry. This tasting highlighted the quality of "malternative" distillates out there – it definitely pays off to look at other (and, these days, more affordable) spirits as well. I mean, a 50yo Cognac for 135£… that's a steal!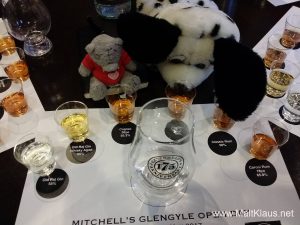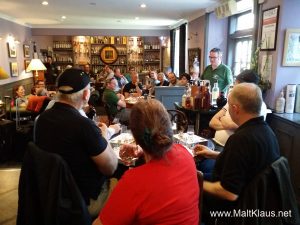 Continue reading "2017 Whisky adventures part 3: Campbeltown malts festival Glengyle open day"