Scotland is a very diverse country and it is easy to forget how remote it can be when you're in the central belt or the more populated areas. But when you're trying to locate a big distillery, in the middle of nowhere, with no mobile reception for miles, you sometimes start to question your navigation skills. What? There's supposed to be a distillery at the end of this 1.2-track, broken up, pot-holey road with no signs pointing you anywhere? Yep, there sure is – and what a distillery!
Dalmunach Distillery
Pulling into the Dalmunach car park we (my brother Johannes and I) were met by malt mates Lora Hemy and Peter Moser, with Crystal Coverdale  having traveled with us. Speyside is a big area – but somehow you keep bumping into the same people! Distillery tours are always best with partners in crime!
"Dalmunach? Never heard of it!" you might be inclined to say, unless you're one of the most die-hard whisky geeks. The new 10-million-litre distillery was constructed on the site of the previous Imperial distillery, which had been mothballed for several years and, since 2013, is now officially a "lost" distillery. Construction of the new site was in the hands of Douglas Cruickshank, a former Chivas executive, who started his career at the Imperial site at age 15. Talking about creating a legacy! Dalmunach is owned by Chivas/Pernod Ricard and is to produce spirit for the blended whisky market, relieving stocks of the likes of Glenlivet and Longmorn. Production is overseen by Trevor Buckley, distillery manager and our "tour guide" that day.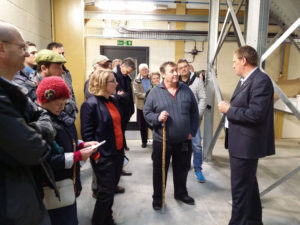 The distillery is not open to the general public, thus instead of entering a big, branded visitor's centre, we met in the distillery "lobby", which is dominated by a strange round, familiar shape. Wood from one of the old Imperial washbacks was integrated into the structure of the new distillery, housing for example the manager's office, as Trevor pointed out to us. You can spot it in the first picture – the round structure in the middle.
Joining us on our tour was also architect Mark, responsible for this stunning piece of functional, modern architecture, tucked away invisibly, like a hidden gem, by the river Spey. The plant has a layout of three strands, reflecting the three distinct production processes: Mashing, fermentation and distillation. And what a spacious layout it is! Lots of room, big, windows drawing ones eye to the stunning scenery all around. Continue reading "Speyside trip 2016: Part two – Dalmunach – Tamdhu (+Maltings) – Glasgow Distillery Presentation – #whiskyfabric dinner"