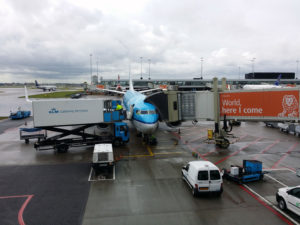 Going somewhere for the first time is always filled with anticipation and excitement. In the last week of April 2016 my brother Johannes and I packed our backpacks for our first ever 'real' trip to the Speyside in Scotland. While we've been to Scotland many times before and even visited Benromach and Glen Moray last year, this was to be our first proper visit to the current heart of Scotch whisky production. Well, our decision to head there might have been triggered by the fact that there was a whisky festival going on at that time – the Spirit of Speyside Whisky festival. You might have heard about it. If not – click the link! Part of the festival excitement had to do with us meeting friends old and new as nine of us whisky geeks (that would be Jo, Johanne, Crystal, Viva, Kat, the Spellers and us two boys) shared a house for a week – a bit out of the way in Cullen (home of the famous Cullen Skink fish soup), but it was comfy and cheap – perfect as a base camp! And right next to our base camp – the next town, literally – was the first destination of our first tour on the first day of #dram16, Thursday, the 28th of April.
Boortmalt Maltings in Buckie
It's Wednesday morning, the sun is shining (for the most part) and we're driving our car towards Buckie to take a look at the Boortmalt maltings operation there. What better way to start a whisky festival than looking at how THE main ingredient in malt whisky production, malt, is made? At the door we were greeted by plant manager Gary and led into the board room for tea and cookies. Not a bad way to start the day indeed. The day even got better when we bumped into house mate Crystal for the first time as well as Lora and Rachel – always great to meet fellow malt mates at festivals!
Malting barley is a three-step process. At first you "steep" the dried barley in water to raise water content of the grain, as can be seen in the second picture, which was taken at the time when the steeping vessel was "stirred" by way of introducing compressed air from the bottom. Once a moisture content of approximately 45% is reached, the water is drained and the barley transferred to the germination chamber.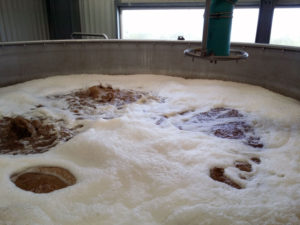 Under controlled climatic conditions the barley begins to grow during the modification phase, where enzymes break down the proteins and carbohydrates, essential for fermentation later on in the production of whisky. After germination has arrived at a critical point, the barley is kilned – you could also call it heat-dried, to terminate the germination process, or otherwise a barley plant would grow and we wouldn't want that to happen, now would we? Drying is achieved by introducing hot air through the bottom of a perforated floor. Sometimes peat is used during the first phase of kilning to create smoky flavours, at the Buckie maltings they only produce unpeated malt, from local (Scottish) Concerto barley. They once tried making a peated batch, but after burning 40 tonnes of peat only got them about 10 ppm in the malt, the trials were abandoned. Continue reading "Speyside trip 2016: Part one – Boortmalt Maltings Buckie – Speyside Cooperage – Auchroisk Distillery"