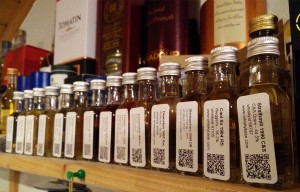 We all know the feeling: We've gone down to the dregs of a great bottle of malt and we wish we could preserve it. Well, why don't we? It's actually really simple to do so and there are two ways:
1: Some people always buy three bottles (or more). One to drink, one to keep and one to swap. This is the best case scenario but obviously doesn't work for everyone given the massive investment, money-wise and in storage space required.
2: Just decant some into sample bottles and build your own archive.
Let's explore the possibilities of option number two a little further: Continue reading "Building your own whisky library"