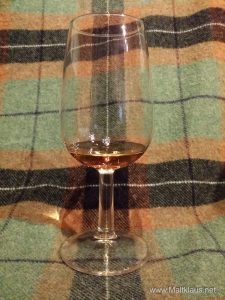 Dram data:
Distillery: Highland Park
Bottler: official bottling
Distilled: ?
Bottled: 2008
Age: 40 yo
Limitation: –
Casks: refill casks
Alcohol: 48,3%
uncoloured / unchillfiltered
Whiskybase link
Finally, there it is: The culmination of the vertical Highland Park tasting. The coveted, sought-after, eye-wateringly expensive 40-year-old. Let's see what all the fuss is about!

Tasting notes:
Colour: amber
The nose is surprisingly light and fragrant. If the 30 yo was a Rock & Roller on crack and steroids, this is a laid-back soul singer. Err, yeah, enough with these silly comparisons, what do we actually smell? Undeniable oak in the background. Think disused, aged, dusty library shelves someone now uses to bake Christmas bakery on, infusing them with spices (star anise, allspice) and sprinkling rum aroma on top of dark fruits (dried plums and dates). Vanilla-infused icing and dark chocolate are also involved. All of this happened a few days ago and the aromas are muted and starting to fade slowly. A very intriguing, complex nose, but someone turned down the volume just a bit too much. Let's check the palate!
Oh! There's a nice peppery kick on the initially quite dry arrival before the dram shows its mouth-coating, mellower, oily side. Unmistakeable – but not over-the-top – oak influence with some oak sap (is there such a thing? I don't think so…). On the second sip it's not as lively, showing the age of the liquid. Quite a complex mashup of many different aromas, it's all of the things I got on the nose mashed up through a blender into a mixture that's almost impossible to dissect. I am missing different aspects screaming at me "hey, there's the cinnamon" "oi, over here, I'm the dried plum". Looking back at the 30-year-old again, this was more precise, more alive, more kicking and, also, a tad more entertaining. This is "just" very good, very old whisky – and it is very good, but for me a step down from the mountain we climbed on the course of this vertical tasting.
The long finish is one thing I prefer over the 30. Very warming and elegant, with a balanced mixture of cask spices and sweetness, taking a very long time to fade away. Very good indeed. have I ever had a whisky before where I liked the finish the most? Every day's a school day…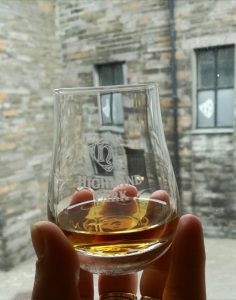 Verdict: There we have it, the last whisky in our vertical tasting of the top-end Highland Park releases. We climbed our way up via the 21, 25 and 30, which showed continuous improvements in quality and complexity. Arriving at the 40-year-old, of which only one batch exists (so far) and is kept under glass so it doesn't change anymore, we are seeing slight weaknesses as if the spirit is slowly getting tired after a long and hard rock-and-roll lifestyle. Now, don't get me wrong, this is still a very good whisky, I've tasted older ones which were far inferior, but unless you need it for bragging rights or for a matching round birthday, go for the still expensive enough 25- or 30-year-old bottlings instead.
Score: 88/100

(Nose: 88 Palate: 87 Finish: 90)
Click here to read about all the Highland Park whiskies I've reviewed so far!
Samples acquired from Highland Park during an invited distillery tour