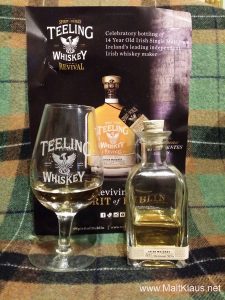 Dram data:
Distillery: not stated (most likely Cooley)
Bottler: Teeling
Distilled: 2002
Bottled: 2016/2017
Age: 14 years
Limitation: 10000 bottles
Casks: Ex-bourbon and Pineau Des Charentes finish
Alcohol: 46%
unchillfiltered and uncoloured
Whiskybase link
Oh, a surprise package from the Teeling Distillery guys and gals in Ireland, err, I mean, the #whiskyfairy, of course! The third edition in their "Revival" series was finished in French casks which previously contained a fortified wine, "Pineau Des Charentes". Let's see how well the French and the Irish cooperate!
Tasting notes:
Colour: gold
The nose opens light and Irish, just as expected. Another rather subtle finish, which is good, as wine finishes can get very overpowering. Sweet vanilla mixed with malt, honey and grape juice, with a few more fruits mixed in – red apples, juicy pears, mango, caramelised orange peel, possibly a cheeky lychee and a juicy peach. As time moves on, a richer, thicker, darker background note emerges. The official tasting notes speak of chocolate and nuts – I'd describe it more as a rich, mixed dark-fruit component. Overall very settled-down and mellow, not overpowering – in a word, Irish. 20 minutes later: Oh, even more dark fruits (and perhaps a hint of nuts), this is a transformer whiskey! Don't rush it! On to the palate! Silky on the arrival – and on the sweet side too, now the fortified wine casks show their influence! Mouth-coating and chewy, oily, with loads of thick grape juice, honey and dark fruits! Raisins, dried apricots and mango, some pickled ginger, caramelized orange peel and dried dates. The oak is now noticeable as well, providing a spicy component (christmas cake spices) and a slight bitterness (dark chocolate) which counterbalances the sweet notes. We've suddenly moved from Ireland to Speyside, it seems! A big and chewy dram, but you have to like them on the sweet side!. The medium long finish has a nice chili catch upon swallowing, followed by silky, honeyed sweetness with grape juice and mixed sweet ripe fruits. Very enjoyable indeed.
Verdict:
Mmmmhhh…. now that was a very enjoyable whiskey – one that will reward you when you take it slowly. Pour, set aside for 15 minutes to half an hour, then have a go at it. I'm usually not the biggest fan of fancy wine finishes, and I had never heard of this type of wine before (shame on me), but this is a very pleasant exception. Big, but not overwhelming, sweet, but not too much (though maybe borderline for some) and not too wine- or cask-forward, supporting the light Irish base distillate. Not cheap at about 120€/110GBP retail price, but it is really good!
Score: 88/100
(Nose: 88 Palate: 89 Finish: 88)
Thanks to the Teeling distillery for the sample!