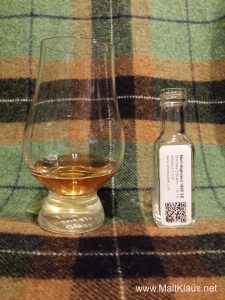 Dram data:
Distillery: undisclosed
Bottler: Svenska Eldvatten
Distilled: 3.1995
Bottled: 10.2013
Age: 18
Limitation: 428
Casks: Single Cask
Alcohol: 561%
Unchillfiltered; uncoloured
Whiskybase link
We are getting very close to the 200th whisky review here at MaltKlaus' headquarters, so let's find something mysterious in the sample pile… An undisclosed Highland malt, perhaps? Yes, this should do nicely!
Tasting notes:
Colour: amber with a golden sheen
The nose leaves no doubt: sherry cask at work here! Probably European oak, too. On the first contact we've got a mixture of fresh lemon with peel, a drop of lime, melissa and mint on the one hand and dried plums, fresh figs, a handful of dates on the other. It's balanced out with a whiff of wet autumn forest, spent cloves, a cinnamon stick used for three consecutive brews of mulled wine (red wine!) and the smell of walking past an oriental spice shop. A very nice balance between distillery character and cask, still on the light side. The palate is among the same line, with a rather lively, fresh arrival on the citrus and melissa side with quite a bit of alcohol. Mouth-coating and medium dry with quite a few cask spices overshadowing the fruits at first. With a bit of water we get added lemon seeds, spent mulled wine spices, and a slight dark fruit fruitiness/sweetness – a mixture of dried plums, dates and raisins turned into a puree. In the background we also get a bit of light cigar tobacco, wormwood and dark chocolate. Quite a bit more cask-driven but still on the fresher side with intact distillery character. The medium long finish is perfectly in line – citrus notes, mint and melissa up front, drying after swallowing with a mixture of cask spices, and slight dark fruits appearing afterwards with a light oakiness towards the end.
Verdict:
As soon as I stuck my nose in, my mind immediately went "Glenmorangie". I have no way to prove it, but the refined, clean citrussy distillate character immediately led me on that path. The (most likely European) oak is not overpowering, yet still adds a lot of character – a very fitting combination in my book. Yep, this one works very well for me.
Score: 87/100
(Nose: 88 Palate: 86 Finish: 87)