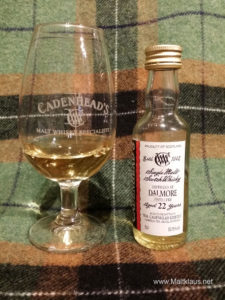 Dram data:
Distillery: Dalmore
Bottler: Cadenhead's
Distilled: 1992
Bottled: October 2014
Age: 22 years
Limitation: 264
Casks: refill bourbon
Alcohol: 59,5%
unchillfiltered and uncoloured
Whiskybase link
Tasting notes:
I've been sitting on this miniature for a while now, but Dalmore matured in (refill) ex-Bourbon is not something you see released by the distillery. All the more intriguing – let's see…!
Colour: copper gold
The nose opens on a light, summery note. Quite a bit of alcohol there – no wonder at close to 60% ABV! Mentholated ginger/orange drops, orange zest, gooseberries, white grapes, icing sugar with a dollop of lemon juice, red apples and fresh pears. Big on the light, fruity side. There's a hint of oak in the background – light and shy, adding depth, but not more. With water (about 1/5): Less alcohol and a tad more pronounced fruity notes but no big changes. The palate is quite a bit alcoholic on the arrival, again, no wonder looking at the ABV. A continuation of what we had on the nose: Light summer fruits, but at the same time mouth-coating and almost creamy. Gooseberries, apples, sweet pears, peaches and grapes with lemons and oranges thrown in for good measure. All on a bed of sugar-reduced icing sugar, if such a thing even exists. And a sneaky lychee on top, served on an oak platter. With water: Ah-ha! Didn't lose a thing but cut down the alcohol considerably. A tad more viscous too, but the style remains unchanged. The medium-long finish is creamy and oily upon swallowing. Fruity-sweet with summer fruits dominating before a dryness and slightly malty/oaky notes appear towards the end.
Verdict:
A light summer dram full of summer fruits – that's pure Dalmore when you deny it the usual big sherry influence and stick it in a refill bourbon hoggie instead. While this might be a tad too light for those who like their big, sherried Dalmores, it works well for me, especially with a splash of water.
Score: 86/100
(Nose: 86 Palate: 86 Finish: 85)
Sample kindly provided by Cadenhead's Whisky Market Austria