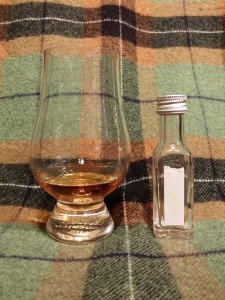 Dram data:
Distillery: Jim Beam
Bottler: Original Bottling
Distilled: –
Bottled: ca. 2014
Age: NAS
Limitation: –
Casks: fresh barrels
Alcohol: 50%
unchillfiltered; natural colour (per law)
Whiskybase link
Blind tasting notes:
Colour: honey
The nose, err… huh! Not a malt! There might be a malt component, but there are other grains (maize and quite possibly rye) in the mix. That's most likely a bourbon*, though on can't be too sure with so many countries making whiskies these days. So, what do we get? No acetone – that's good! Just a spearmint type tingling in the nose. Sweet corn distillate, loads of vanilla – sweet vanilla, custard-ey. Chewy toffee with cream.
Yep, those are the dominating notes. Light, sweet, heavy on the vanilla. Also minor notes of liquorice and slight toasted oak spices (cloves, cinnamon – I guess the casks were deeply charred). Not overly complex but no off notes either – which is good, because I'm quite picky when it comes to bourbon and off notes…  On to the palate then. Initially very light. Not one % over 40% ABV. It feels a bit watery at first and takes some time for the taste, alcohol and spices to kick in. A slight spice, reminding me of rye distillate, notes of corn- based mash dominate, though. Surprisingly dry with the corn-syrup sweetness only playing second fiddle. Loads of vanilla, obviously, some toffee, caramel, liquorice, ginger spice, black pepper. Quite enjoyable, yet on the more simple side. The medium long finish is quite dry with liquorice, rye(?) spices and vanilla-infused alcohol with a diluted corn syrup sweetness emerging underneath.
Verdict:
Right. A rather light bourbon* on the first encounter – with a growing spicy aspect down the line. A bit too dry in taste and finish for my personal taste but all considered an easy-drinking, quaffable, light "session bourbon"* without any flaws.
*Right… time to find out what this mystery dram is… (of course you already know, since I'll write the headline and add the "dram data" prior to publishing…)
Huh! Now that's interesting. Not a bourbon then, but a straight Rye (at least 51% rye in the mashbill). I already guessed a good portion of rye in the mix, so I wasn't too far off, really. What surprises me is the high ABV, it certainly didn't taste like 50%. Well, a nice quaffable, not too complex  whiskey, a tad too dry for me personally, but hey, it would be boring if we had similar tastes!
Score: 80/100
(Nose: 83 Palate: 81 Finish: 79)
Cheers to my brother Johannes for the blind sample!