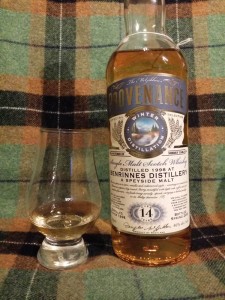 Dram data:
Distillery: Benrinnes
Bottler: Mc Gibbon's Provenance
Distilled: Winter 1998
Bottled: Spring 2013
Age: 14
Limitation: –
Cask: Sherry Butt 9632
Alcohol: 46%
unchillfiltered; natural colour
Whiskybase link
Tasting notes:
Colour: light gold
The nose opens with a noticeable sweet and dry sherry influence. There's also vanilla, citrus, light caramel with a hint of menthol and an earthy background note. A pretty light dram from a refill sherry butt I'd say. Let's see if the palate has a bit more to offer: Well, it's very consistent! A sweet and dry sherry on the arrival paired with toffee, caramel, vanilla, orange oil, menthol, old oak cupboard and a hint of mixed spices. Quaffable, but a bit restless. The medium long finish is quite a bit alcoholic upon swallowing, getting quite dry with remnants of sweetness with oak notes, malt and spices appearing towards the end.
Verdict:
That's a prototypical "blending stock" malt in my book. Good but not great wood, designed not to stand out in a blend, but rather to, well, blend in without introducing off notes. On the other hand, it is a good, easy-sipping malt without any apparent flaws and the bottling strength of 46% definitely helps. Considering the price of 37€ in early 2014 for a single cask whisky this is "daily dram" material after all – and a great malt to "play" with when conducting your own blending experiments…
Score: 79/100
(Nose: 79 Palate: 79 Finish: 77)