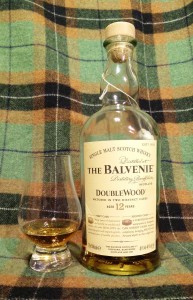 Dram data:
Distillery: Balvenie
Bottler: Official bottling
Distilled: –
Bottled: around 2014 (Code: D230835)
Age: 12 years
Limitation: –
Price at the time of purchasing: 29€
Casks: Bourbon with Sherry finish
Alcohol: 40%
Chillfiltered, added colouring
Whiskybase link
Tasting notes:
Colour: fake amber
The nose delivers what is promised on the label. Dominating ex-bourbon notes enriched by (wet?) ex-sherry casks. Rich and creamy but not overwhelming. Sweet vanilla pudding with tinned, glucose-laden exotic fruits on top.  Which fruits? Very hard to pick apart. There's also caramel, orange juice, orange rind, bitter citrus fruit kernels. Slight wood spices in the background and bit of chalk too. A classic Speyside nose. On the palate the sherry finish is as influential as on the nose, enriching the experience. Besides the sherry influence there's also a rich ex-bourbon vanilla sweetness, accompanied with honey and a nice oak influence, not too little, not too much. A creamy, oily texture, coating the mouth, very chewy, almost liqueurish. Hard to make out individual flavours, think once again of the tinned, glucose laden tropical fruit mix, this time pureed. The finish is full, sweet, slightly spicy with a lingering malty, oaky aftertaste.
Verdict:
This 12-year-old  Balvenie Doublewood is a prime example how I want a standard expression to be. Many distilleries put our very restrained, watered-down, in short unsatisfying supermarket standard expressions. Not so this one. While it isn't the most complex dram and it could further benefit from bottling at a higher strength without colouring and chillfiltration, it is a rich, sweet, classic Speyside dram, not afraid to show a little wood influence. I like keeping a bottle of this in the house for when I want an easy-sipping, sweet and inexpensive yet still rewarding dram.
Score: 84/100
(Nose: 83 Palate: 84 Finish: 84)